After a brief foray into the world of cosplay as an Agent of the Matrix at the Sheffield Comic Con 2014, I decided to make a more elaborate costume for MCM Birmingham 2014.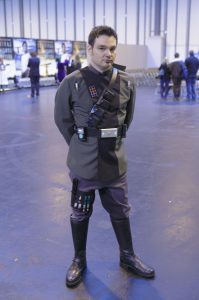 Having played an Imperial Agent Operative in Star Wars: The Old Republic and loving the look and the story of the character, with the added bonus of being a bad guy, I decided to have a go at making it as a SWTOR cosplay costume.
The Imperial Agent in the game has access to hundreds of different outfits, but I always thought the early version of the Imperial Officers uniform typified them. The game makers, I suspect, thought the same; all the NPC agents wore that same outfit.
As a result I knew I needed a few things :
Sam Brown type belt with tech and pouches
Breech type trousers
Leather boots
Leather or fake leather gloves
I also added a thigh pouch – This is not accurate to the game as far as I know, but as an operative type Agent, you're essentially a field medic and pull Kalto injections etc from your person regularly. I wanted to allude to that, so created a medical leg pouch.
The leg pouch also served as sheath for my Vibro Knife, the close-combat weapon of choice of the operative. In the game these magically appear and are more swords than knives, so some artistic license was required. I must admit this latitude in interpretation is one of the things I find so appealing about this kind of game costume, particularly when you don't necessarily have the tools/money/etc to make something that's totally screen accurate.
Ultimately, walking about Birmingham Comic Con, I don't feel I was recognised by anyone as an Imperial Agent. Certainly the people I spoke to respected that clearly a lot of time had gone into it, but that they had no idea what I was supposed to be.